Après-ski ("after skiing" in French) refers to going out, having drinks, dancing and generally socializing after skiing. Skiers often stop at a bar right after their last run of the day, all while still wearing ski gear.
There's no better way to unwind after a full day on the slopes than with an après aperitif in hand. When the sun sets on the slopes, that's when the real fun begins.
Relax and sip on your favorite beverage at our world-class après spot. With a lot of dancing and live-music, you won't be hard-pressed to have fun while in Geilo.
At Havsdalskroa you can enjoy food and drinks! Bring a friend or two, and grab a couple drinks while sharing Geilo´s best pizza! Every apreski starts at 3.00 pm. 
Aprés-Ski Program 18/19
ID: 20
Free entrance, besides the ones marked with *
(See facebookfor individual events)
We welcome you to a apré season like nowhere else!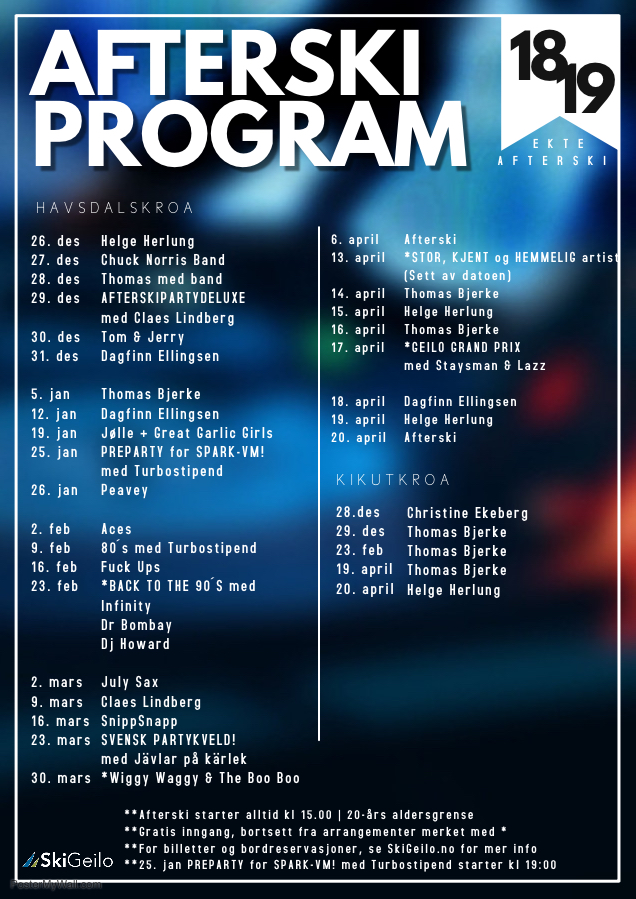 The Aprés-Ski Bus drives you home!
Kr. 50,- NOK (You pay on the bus)
From Havsdalskroa 3:15 pm
From Kikutkroa 5:00 pm
From Havsdalskroa 5:45 pm
From Kikutkroa 6:25 pm
From Havsdalskroa 7:00 pm
The bus have the following route:
Havsdalskroa - Bardøla - Dr. Holms - Taubanekroa - Ustedalen Hotell & Resort - Geilo Hotell - Off Pist - Geilojordet - Vestlia Resort - Kikutkroa (samme rute tilbake)
Se her for afterski rutetabell
Table Rules/Table Reservation: 
1. Your table reservation stays until 3.15 pm are you not there by then, your table gets given to someone else.
2. You choose between our drink specials, this will be set on your table on your arrival.
Table package 1: 8 bottles of optional bottle beer in bucket with ice, NOK 704, -
Table package 2: 1 bottle of prosecco and 3 bottles of optional bottle beer in bucket with ice, NOK 795, -
Table package 3: 1 bottle of aperol, 2 bottles of prosecco, 1 bottle of soda in bucket with ice, orange slices and 10-12 glasses, NOK 1395, -
Table package 4: Champagne Bollinger Special cuvee in size 0.75L kr 995, - 3L kr 3995, - or 6L 7995, -
There are also non-alcoholic alternatives such as mineral water (42kr bottle) and alcohol-free beer (54kr bottle).
We go far to reserve a specific table, but you cannot be guaranteed to get the table you want.
Table reservation does not include entrance fee or CC on evenings where this is advertised.
** Send mail to [email protected] for reservation.
Season Ticket Holders
What you need to know:
- Season card holders have free entry to all events with CC or entrance ticket.
- Season card holders can pick up their ticket (VIP-Bands) at Havsdalskroa between kl. 10 - 14 event day. (NOTE TIME). You can only get one for yourself, not to anyone else.
- Your season ticket must be brought along and will be checked when retrieving the tape, or upon arrival at the door. Your season ticket is personal and cannot be lent to others.
- In apres ski with concept you get GIVEAWAY to bring up the mood! PARTY ON! Contact the bar.
IMPORTANT:
- Remember to pick up your ticket in advance!
- Be early, even if you have a ticket! If you have a ticket you are guaranteed entrance.
- If you haven't picked up a ticket, you will receive priority in the door upon arrival, but we cannot guarantee entry. Full is full! The guard has the last word, ALWAYS.